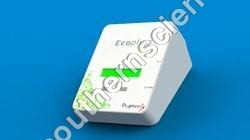 Airconditioner Power Saver
Product Description
Air Conditioner Power Saver Save Upto 30%
Just plug and play Air conditioner Power Saver
Ecoplug|Air : World's Most Advanced Energy Saver for ALL Air Conditioners.
The World's First & Only Digital Air Conditioner Power Saver from Plugmetrix
AVAILABLE IN 2 Versions
Features:
Dual Sensors and Displays for Room and Coil Temperatures.

Powerful Algorithm based on FUZZY LOGIC for 20-30% Savings

Built in "anti short cycling" Protection.

No Compromise on Comfort

Easy to install

PAY-BACK only 2-6 Months

Call us For More technical Details and Pricing
How Ecoplug Works?
No Freezing Just Stay Cool:
Conventional ACs are designed to suit ideal ambient conditions; they are built to do some over cooling to ensure comfort levels. However this over cooling may only be required in few situations and not always. Eventually this additional cooling results in cooling your walls/ceiling and other objects in the room. Obviously the expectation of the user of AC is to maintain comfort levels on the air temperature and not on the solid objects. This additional wasted energy can be saved. Ecoplug comes with a high precision temperature sensor that measures the air temperature at the operating level (below 8ft) and operates the AC compressor based on this data. Therefore no more chilled floors/walls/ceilings; while you stay comfortable.
No More Hard Work : Only Smart Work
The heat generation within a room depends on several factors viz. no. of people, machines in operation, external weather conditions, frequency of doors kept open/closed…etc. At the first instance your AC senses the harsh condition and starts working hard (compressor runs for more time); and at a very gradual pace it reduces its working time until it settles down to a constant pace. However in between if it encounters yet another harsh condition the compressor again gets into hard work mode and again slowly reduces and so on… The change here is linear that results in wastage of energy during the settling time.
Ecoplug opens up multiple sessions and works very similar to the gear system of your Car; you operate your car at low gear when road conditions are harsh and step by step move to top gear until the conditions are favourable for a cruise mode drive. Ecoplug is built with intelligent soft gear mechanism that makes shifts to ensure that the compressor works more only when it is absolutely required; and shifts quickly to higher sessions for smooth minimal operation of the compressor. In a nutshell the device automatically adapts to local ambient conditions on a step mode as against linear mode.

Thermodynamic Saturation:
Every enclosed space has its own thermal saturation point, any amount of cooling beyond this point is just a wastage of energy; the evaporator coil in your AC is responsible for dropping the temperature; however there is no way it can sense this saturation point and stops operating the compressor.
Ecoplug is built with additional sensor to monitor the thermodynamic saturation point and ensures that the coil in AC is never over cooled beyond what is required.
Ecoplug monitors all the above parameters and its adaptive switching mechanism results in saving all that wasted energy in your AC. The savings can be up to 30% on an average.
Ecoplug uses Adaptive duty cycling sessions as opposed to linear control in conventional ACs.