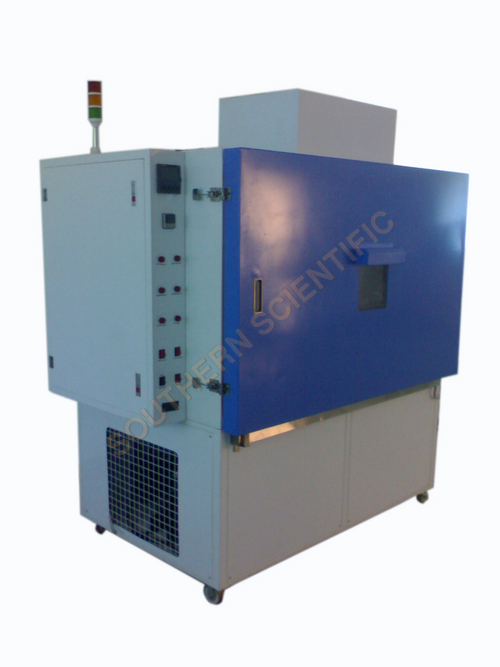 Environmental Test Chambers
Product Description
Environmental Test Chamber
We are instrumental in offering an extensive range of Environmental Test Chambers. These are designed and manufactured utilizing quality approved components keeping in mind the international standards in order to ensure optimum performance. Compact design, rugged construction, precise dimensions, low running cost, corrosion resistant nature; these are a few of the features of the Environmental Test Chambers. We offer these chambers in various specifications that can be customized further at highly competitive prices as per the needs of the clients.

Environmental / Climatic test chamber used to test effects that climatic changes have on products placed within environmental chambers. These chambers evaluates product quality, identifies weaknesses, etc. High temperature, low temperature and humidity testing conditions can be done in single unit either manually / programmed with cyclic operation conditions.
Standard sizes :
600mm x 600mm x 600mm
750mm x 750mm x 750mm
1000mm x 1000mm x 1000mm
Temperature ranges :
-10 to +100oC / -40 to +100oC / -70 to +100oC / -70oC to +150C
Humidity range :
40% to 98% @ 30oC to 80oC.
Technical Specifications
:
Temperature, Humidity Controller (Humidity - Dry and Wet bulb method)
Digital Microprocessor based, PID, Temperature Indicator cum controller with display resolution of 0.1C.
Digital Microprocessor based, PID, Humidity Indicator cum controller with display resolution of 1%Rh. (direct reading).
Display accuracy ±0.5%, full scale.
Temperature controlling accuracy ±2C.
Humidity controlling accuracy of ± 2-3% @ 40% to 98% Rh.
Class A grade PT-100 (RTD) Sensor for dry and wet temperature measurements.
Construction:
Vertical model.
Inner Chamber made of dully polished Stainless Steel, 304 Grade. Outer made of Mild Steel, powder coated.
Polyurethane Foam (PUF) and Glass Wool / Ceramic blanket Insulation.
Handle, lock and heavy-duty hinges for door.
Door with Silicon / Neoprene rubber gasket for leak proof.
Forced air circulation to maintain uniformity of temperature.
Frost Free Viewing Window to observe the testing components during working condition.
Double walled full front opening door. Inner lined with SS.
Long life Ni-chrome, SS heaters with fins for higher temperature.
Automatic cut off for circulating fan when the door is opened.
Lockable Wheels for easy movement.
Drain facility to drain the condensed water from the chamber.
Adjustable SS meshed trays.
Refrigeration System:
Hermetically sealed EMERSON Copeland make compressor.
CFC free refrigerant filled.
Fin and tube type air-cooled condenser.
Safety features:
Provided with Suitable overload protectors and MCB s to ensure absolute safety to Electrical / Electronics and Refrigeration Systems.
Provided with automatic water filling for humidity test.
Door light is provided for viewing window.
Single phase preventor will be provided for 3-phase instruments.
High Pressure and Low Pressure safety cut off for Compressors.
Fully solid-state relay (SSR) control for heaters.
High and Low temperature deviation alarms.
Power Supply:
Single-phase 230Volt / Three phase 440 Volt, 50 Hz.
Optional:
Calibration certificate traceability to NABL standards (Temperature controller with sensor).
Tower Light with Red, Orange & Green indication to know the status of the machine.
Specimen Protection to protect Components from high temperatures.
Multi Programmable, cyclic Eurotherm PID controller with ramp and soak.
IR lamps facility for component surface testing.
Full Stainless steel (Inner & Outer).
Computer Interface (RS232 / 485).
Available in different chamber sizes, as per customers' requirements.
Note:
Due to continuous development SSLI reserves all the rights to change specifications without prior notice.